Create Your First Campaign
Let's walk through creating your first email campaign. Follow the steps below to set it up, create your content and define who will receive the email.
Initial Setup
Define Your Content
Create the HTML Version
Enter the content for your email using the WYSIWYG editor, just as if you were composing a document in a word processor. Use the buttons to add appropriate formatting (like bold or italics) and to insert images, hyperlinks, and other components of your email: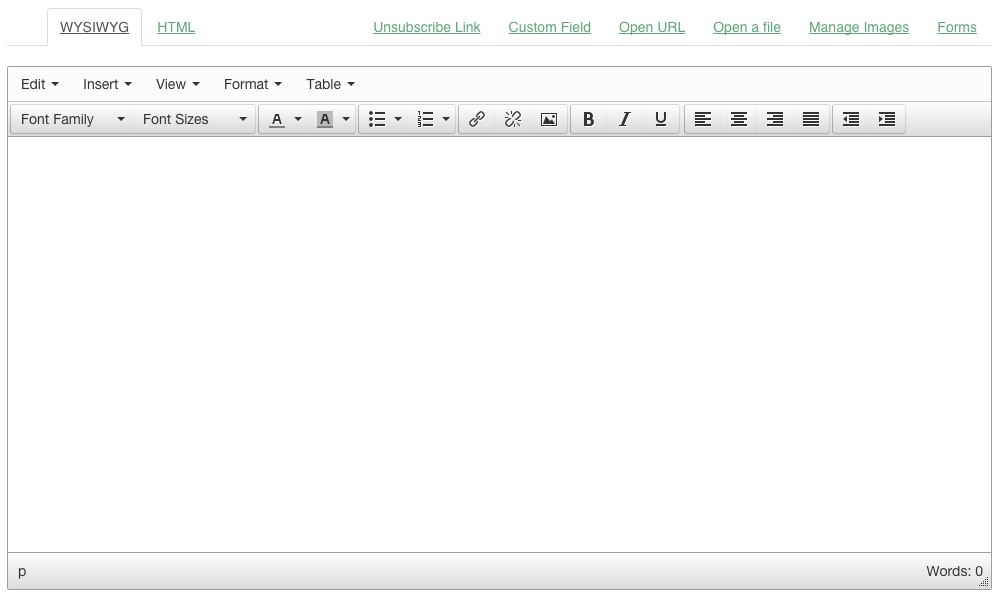 Click on the HTML tab that appears above the WYSIWYG editor if you'd rather edit the campaign's HTML directly.
You also have the option of importing pre-written HTML by clicking the Open URL or Open a File links that appear above the WYSIWYG editor.
There are a few other special links above the WYSIWYG editor:
Unsubscribe Link will insert an unsubscribe link when clicked.
Custom Field brings up a prompt which allows you to select a custom field, such as First name. After clicking on your desired custom field name, a placeholder string, like %%First_name% will be inserted. This placeholder will automatically be replaced at send time with the actual custom field value.
Manage Images lets you upload images to SMTPProvider Application to use in your emails. It also lets you select previously uploaded images.
Forms lets you insert a link to a web form. An example of a web form is a Modify Subscriber Details form, which allows subscribers to update their subscriber record.
Create the Text Version
Next, let's compose the text version of this campaign.
The easiest way to compose the text version of a campaign is to click the Generate from HTML link that appears directly above the text editor. You can also edit the text version of the campaign directly, and either compose it from scratch, or edit the text that was generated by clicking on the Generate from HTML link: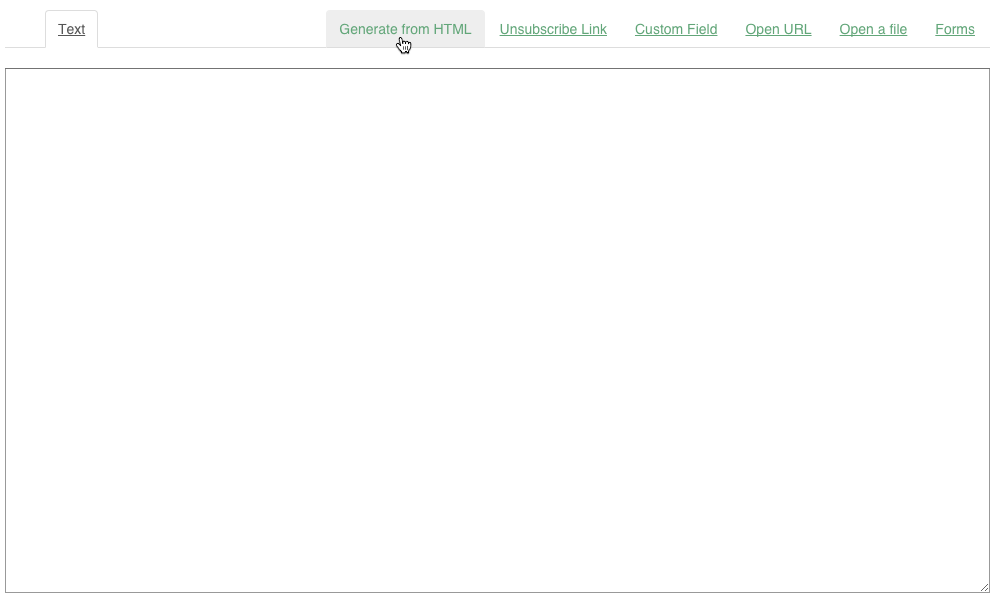 When you're finished writing your content, click the Update this campaign button:

Choose Your Segmentation Criteria
Click the Edit Segment link that appears to the right of Steps Required to Send:
Click Use this segmentation criteria to accept the default segmentation criteria. This will send to all recipients who have not been deactivated due to a bounce, spam complaint, unsubscribe, or other cause:

Segmentation options are outside the scope of this article. See our Segmentation Builder Basics article if you'd like to learn more about this topic.
Review Delivery Settings
Many of the delivery settings that you now see had their default values defined when the mailing list was created. See our Import Your First Mailing List article if you'd like more details on those settings.Additional fields on this page include Track Opens and Track Links. They're both on by default, but you can click No if you don't want to track them:
Click the Update this campaign button at the bottom of the page to save the delivery settings:

Preview the Campaign
Follow the steps in this section if you'd like to send a preview of your campaign:
Send the Campaign
Congratulations! You just created and sent your first SMTPProvider Application campaign!